9th February 1933 – 22nd June 2020
Peter was born on 9th February 1933 in Boreham, Chelmsford, where he lived with his mother Millie, two older brothers Hector and Bob, and younger sister Gwen.
Peter started his first job running errands for a chemist near Duke Street, earning £2 a week! At this time, Peter was also an active member of the Central Youth Club in Chelmsford, where he regularly performed various parts in plays – never missing an opportunity to use his love of performing arts to make people smile 🙂
Peter began working at the Co-op grocery warehouse, where he stayed for many years. He loved the social side that came with the job, getting involved in all their sports clubs, from cricket to football. Never shy to get involved, Peter found himself taking on the roles of linesman and even referee. One thing led to another and he eventually started up Medway Football Club, securing funding for 12 new football kits! It was here that he affectionately became known as 'Medway'.
Peter's final job before retirement was working as a night cleaner but the hard work didn't stop there! Peter was the world's greatest grandad, never missing a birthday, Christmas, school play, or dance class. And as a committed football fan, he never missed attending the boys' football training and matches (come rain or shine)!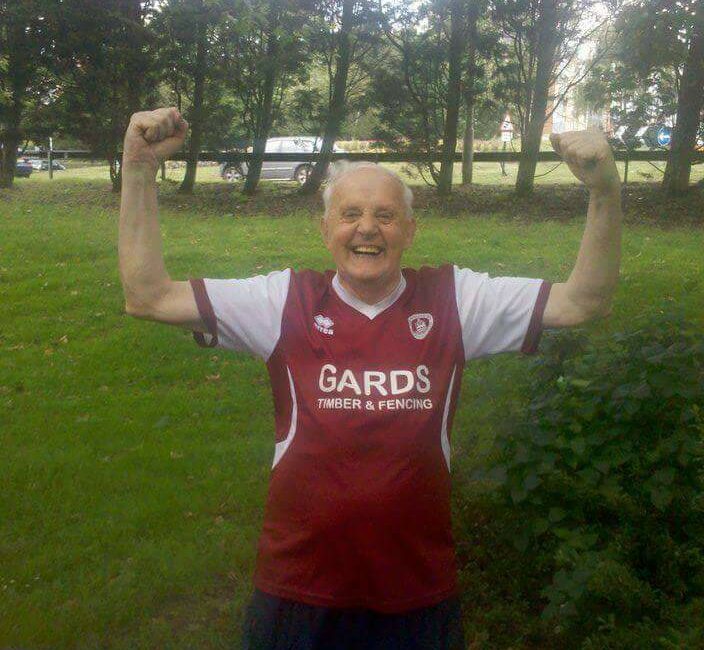 Peter was a lifelong Chelmsford City Football Club supporter, regularly volunteering to help with odd jobs around the club. As a season-ticket holder, Peter followed the team all over the UK, supporting them both home and away. Peter's love and dedication to the club was recognised in 2014 when he was awarded a lifetime membership of the Chelmsford City Supporters' Club. Peter was well known by all supporters of the club, never missing an opportunity to sing at the top of his lungs on the supporters' coach, raising spirits and often waking up a few fellow supporters!
Peter continued to visit the football club even later in life. When he could no longer attend matches, Peter would call his grandchildren for updates on the scores. Peter lived his whole life in Chelmsford, walked almost everywhere and almost always with a smile and a song to sing. He was well known and dearly loved by all.
Your Chelmsford City Supporters' Club family misses you, Peter.