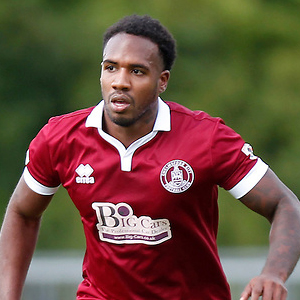 Q&A proceeds with Chris addressing/welcoming our guests and playing a couple of Aiden Palmer's best goals for the Clarets using the projector. First goal versus Wingate & Finchley in a pre-season friendly & second goal versus A.F.C. Telford in the FA Cup.
Chris asks the first question:
Q: Aiden, what would be your best moment as a Chelmsford player over both spells?
AP: First time obviously is that goal (versus Telford). That meant a lot to me because my step-dad had just got cleared of Cancer the day before so that goal meant a lot. Second spell, there were not that many, but I would say I had a lot of assists when I came back. I remember that goal I setup for Billy Bricknell against Basingstoke. I setup my mate who I've known for a very long time and it meant a lot, not the goal, because we were playing poorly against Basingstoke. It was a nice goal, but I felt that the team were not doing very good, it didn't feel right at the time, so I'd say my assist for Billy was my best moment in the second spell.
Q: Where would you have liked to have played if you hadn't played left-back?
AP: I enjoyed left-back, Glenn (Pennyfather) played me Left-Midfield sometimes which I liked and I had a good spell playing there leading up to the play-offs. I really enjoyed going forward with the ball, I was alright defending as well. There were a couple of games where I struggled such as Bromley away, where I remember getting substituted early doors and I started Left-Mid against Welling, moved to Centre-Midfield and then to Left-Back because someone got sent off. I enjoyed playing Left-Mid, but to be fair, I'd play anywhere where the Manager told me to play. I was that type of player who just enjoyed football.
Q: Do you still keep in contact with some of the players that you used to play with?
AP: Oh yeah, a lot of them. Cookie (Anthony Cook) and Clarky (Kenny Clark); those two because I was with them at Ebbsfleet as well. Ricky Modeste, Max Cornhill, Slabbs (Jamie Slabber) and Ben Nunn. There's a few others that I still speak with, but not as much. I think the one day I get married, I'll invite them!
Q: Who was the best Manager you played for?
AP: Glenn Pennyfather without a doubt. He made me enjoy football again, because before that I was thinking about quitting, but when I came to Chelmsford, he made me love football because he loved me.
After you stopped playing, What do you fill-up your day with now?
AP: I work as a meat salesman at Smithfield Market and I do coaching for the Braintree Town Under 18's. We train on Tuesday's & Thursday's and play our games on Sunday's. I get a lot of satisfaction with my team because I've got a good bunch of boys.
Q: Do you think the gulf between the first team and the first is common for a lot of clubs?
AP: Yes, especially at a lower level. When I was playing here, I've only known 3 Chelmsford players (make it to the first team) Aaron Greene, Hugo Skepelhorn and Joe Ward. It's a massive thing now because if you think about how many good young players there are coming up, Chelmsford have lost a couple because I've got a couple in my team now. They're very, very good players. If Rod & Nick got their hands on them, they'd do a good job out there (on the pitch). Youngsters give their all.
Q: How did the Braintree under 18's job come about?
AP: I was asked to help coach the under 16's last year by Paul Nicholson. When I retired, I had a few offers to do coaching, scouting, etc. and Braintree was on my doorstep, so I thought I'd go in and help out with the under 16's. Paul then left, so it was left to me. I didn't think that the boys we had were good enough, but for the next year, I knew what I could do and how to improve the team and to be honest, I had to start again and make it my own team. We only lost our first league game last Sunday! We also competed in the FA Youth Cup, but we got knocked out at the early stages….. I'm enjoying coaching and I've learnt from good coaches. All of their good sessions have stuck with me, so I find I'm bringing it out with the youngsters now and they're learning from it.
Q: Is sometimes the biggest problems on match days the parents?
AP: Sometimes. I found on Sunday that some of the parents were trying to coach the players. So I'm telling the players to do one thing like 'go up' and their parents are shouting at them telling them to do something else, so it confuses the player. I had to say to my players on Sunday that I'm the Manager and if you don't listen to me, you'll be on the sidelines. Going into the game this Sunday, if they don't listen, I'll take them off. They won't play.
Q: Going back to that team with Glenn (Pennyfather), obviously we had some great moments, some great cup runs, disappointing moments as well with missing out on the play-offs. Would you say we actually underachieved in terms of we didn't get promoted?
AP: I don't think we underachieved, we had a great team but we had a tough league as well. Dover and Welling were very strong then, even Salisbury City who we lost to in the semi-final. Don't forget though if my free-kick goes in, we're going through aren't we? It was a tough league and we did well in the FA Cup. It was just one of those things. In the first year I was here, we didn't make the play-offs, but in the second year we made them quite easily. So no, I don't think we underachieved.
Q: Do you still speak to Glenn now-a-days?
AP: Yes I still speak with Glenn. He still runs the college, so I speak with him about players. He won't go back into Management, he's very happy. I'm surprised that he didn't go back (earlier) because he was a good Manager, a good man-to-man Manager. There was a lot of things that you didn't see and he & Ben Chenery clicked just like that and we also had Dave Rainford as a player/coach. Glenn was a nice guy and a good Manager, it's a shame what happened with the play-off defeats and him leaving, but I don't think that he regrets anything from his time here.
Q: What were your worst/least favourite grounds to visit/play at during your time at Leyton Orient?
AP: Nottingham Forest, Leeds and Millwall. The amount of stick we got from fans of those clubs! I remember playing a friendly at Millwall and we had to be escorted off by the Police…. we then had them in the league and beat them and got escorted off again! Leeds was just an intimidating atmosphere and Nottingham Forest were just a massive club with a lot of fans. It made me nervous playing at those stadiums, I loved it, but it did make me very nervous. I remember making my debut against Oxford United at Oxford and that's a big stadium as well, very nerve wrecking. I was only tiny then, 10 stone against a very big right-winger. I don't regret those times because I achieved my goal, I worked hard to become a professional footballer and I got there. I made sure that I worked hard and hard and hard to get there. When I left Leyton Orient, I fell out of love with the game, but when I came to Chelmsford where I was loved again, I fell back in love with the game. This is why Chelmsford will always be my favourite Club because you made me love the game and which is why I'll always owe Glenn Pennyfather.
Q: What were your favourite grounds to play at?
AP: The nicest ground I played at was again, Leeds. Lovely ground, horrible fans, but lovely ground. I liked playing at QPR, we played there in the cup and beat them, I played at Cardiff as well. I played at some really nice grounds, but those ones stand out for me. I remember playing against Leeds and they had the likes of Fabian Delph and Bradley Johnson playing for them, some big names now. I want to go out there and play football again!
Q: Who were the best 3 players you played with in your career?
AP: Clarky, John Mackie who I was with at Leyton Orient and also Matty Lockwood at Leyton Orient. Matty was a left-back and I learnt a lot from him. He scored a lot of penalties and even got a hat-trick in one game!
Q: Did you take a penalty vs East Thurrock in the FA Cup in 2012?
AP: No I didn't take one against East Thurrock, I took one against Concord once but not East Thurrock. I had a bit of a mare that game, so I wasn't feeling confident and didn't take one. I scored the one I took against Concord. I remember the East Thurrock game where their first goal was my fault but I setup our goal and got another assist, but I don't feel like I played well at all, so I wasn't confident going into penalties. If you're not feeling confident, don't take a penalty in a shoot-out.
Q: Was you a Leyton Orient lad growing up and how did you get involved with their youth system?
AP: I wasn't a Leyton Orien lad, my step-dad took me to my first game when I was 7-years-old, back when Peter Shilton was playing, that's how long ago it was. This was when I really started to like football and thought it was something I'd really like to do. I was playing for my Sunday League team and 6 of us went on trail at Orient and I was 8 at the time. After my first trial I was signed on, but I was still allowed to play for my Sunday League team and it didn't feel the same. It was taken more seriously in the second year at the age of 9. I remember turning 12-years-old and I signed a four-year contract. I was the last one out of my age group to get a scholarship and in my first year we brought in a left-back called Danny Glozier from Charlton Athletic and I really struggled when he came in because I thought I wasn't going to be signed, so my confidence dipped a bit. The club actually put me up to play in the reserves and I was the youngest player to play for their reserve team. My first game was against Reading and I came off the bench for about 10 minutes and I think I can remember taking someone out, I crunched them! The club liked it! In my first year of scholarship I couldn't keep up and I was poor. I was so poor that I said to myself in my second year that I need to do more, so I took part in extra training sessions and I started playing well and I got a call up to train with the first-team and once I had that first training session, I made sure I wasn't coming out of that. I also remember playing in the FA Youth cup and proceeding to get a call-up to the England Under 19's and went pro.
Q: Who was the club you supported as a boy?
AP: Oh it's always been Arsenal. Arsenal from day one. My family are all Arsenal fans. I grew up North London, Enfield. Fair play to my parents for what they did for me as a youngster, taking me to Leyton Orient and to all of the games, some of them far away!
Q: Looking back over your career, if you could change anything, what would it be? In both football and your life in general?
AP: Well as you know I got in a bit of trouble, so if I could have gone back to that one night where I didn't get in trouble. I think you'd be seeing a different Aiden Palmer. My knee injury as well where I could have been playing for a few more years. When I first joined Ebbsfleet we played Maidstone in a pre-season friendly on a 4G pitch and my knee swelled up. I said to the physio that something wasn't right, but he kept saying my back was the problem. So I played that whole season with a severe knee injury and I've come back the next season struggling. Really, really struggling. I was never the same player again.
Q: Do you have any other interests other than Smithfield and coaching?
AP: Family, my girlfriend, 2 kids and we've got another one on the way actually and we're is expecting in 2 weeks, but I'll still be keeping involved with football. My children are 5 and 2. With my eldest one, I don't want to force football on him. I want him to say Daddy I want to play football, I want to join a team. I ask him do you want to join a football team and he says no, but I do try and to play football with both my boys outside. He's seen me play, but it's not the same. I took him to his first proper game recently (Ipswich vs Preston) and he enjoyed it. He has seen some of my clips on YouTube and he tells his friends at school about it, I hope that he can be proud that his Dad played proper football. I'd like him to look at what I've done and say that he can do better than me.
Q: Do you have any plans on going into first-team Management after Braintree?
AP: I'd like to, but the options have to be there. Would I come back to Chelmsford? Of course! I'll see if I can speak to Rod about that…. That's the plan for me though, to crack on with the rest of my badges and get into first-team coaching and maybe after a few years, maybe 5 years or so, I'd like to look at becoming a Manager. I do want to do it. I wouldn't mind managing here!
Q: Who are the players that you got on the best with when you were here?
AP: Clarky 100% and Justin Miller, he lived around the corner from me. Mine and Clarky's relationship was great, because we both played on the left-side so we'd always be talking on the pitch and off the pitch we'd always be talking. I still talk to him now and we played at Ebbsfleet together. When he went to Dartford, I could have gone with him as well, but I ended up at Ebbsfleet instead. He helped with my game massively, he always wanted me to do well and work harder, he pushed me and I think I pushed him as well. He was a really, really good centre-back and no-one got past him and I don't know how he isn't playing at a higher level, but I know that at Ebbsfleet he's doing really well.