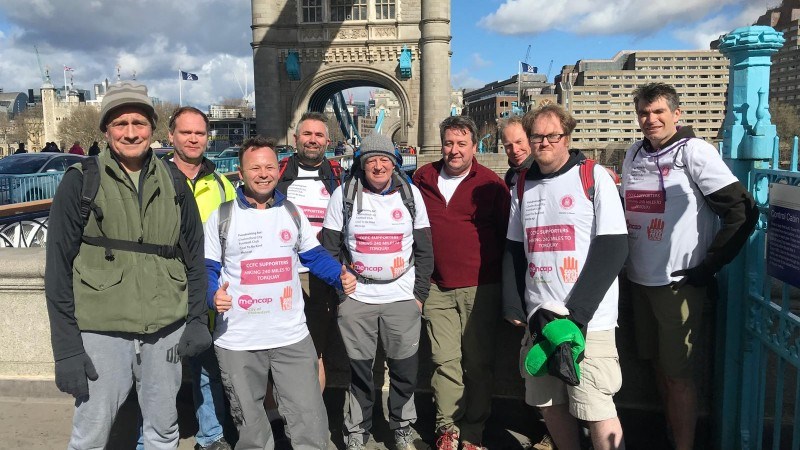 The 2020 Lands' End to Oxford Hike has now morphed into…….Lands' End to Hungerford!
As you may know, in March 2020, 10 hikers were hoping to trek from Lands' End to Oxford to take in the City game at the end of the walk. It was a total of 260 miles, 98 Compede blister plasters, 34 arguments over directions and hopefully, loads of cash raised for our own Community projects plus Chelmsford Mencap. We'd made a great start, accommodation was booked and over £3,000 raised by generous benefactors when – the world changed.
It became quickly obvious we weren't going to be able to complete the challenge, and that – more importantly – we shouldn't attempt it. We hoped we might have a crack at it in September 2020, but again, no dice. In recent weeks, it's become possible that there may be a window for us to do it in May 2021, only this time, divert to Hungerford instead, as that's the fixture Chelmsford have on 22nd May. We like to call it 'The Hungerford Games.
Yes, we know it's still up in the air, the league are currently about as coherent with their messages as Stevie Wonder attempting to semaphore, but – we really need to try to crack on, raise this money and release vital funds.
If we are allowed to travel – we're going to have a go, starting out from Lands' End at 7am on Sunday 16th May. It's still 260 miles, as a cheeky dog-leg can take us to Hungerford via Stonehenge which is all very appropriate baring in mind the relics taking part.
Due to us potentially trooping through the West Country, and with all that's gone on, we all feel that we should largen our benefactors pool to also take in the wonderful NHS. It's humbling what these guys have all done for all of us, and it would be an honour to make a donation to the South West Ambulance Service. With that in mind, I've contacted their charity, who were overjoyed and we will be calling in to Taunton halfway through our walk to honour our pledge. We hope you agree that it's a deserved addition to the challenge itself and we hope that we can do all our groups proud and raise as much as we can for them. We thank you for your generosity so far, and hope we can count on your support during this week long challenge. We'll promise to keep you entertained with stories of derring-do, derring-don't and monumental howlers.
Obviously, we hope to hear within a month whether we can go ahead, so watch this space!